Vani Kulkarni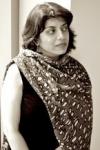 Lecturer, Department of Sociology, University of Pennsylvania; Senior Fellow, Urban Ethnography Project
Education:
Ph.D. Sociology (with Distinction), University of Pennsylvania;
M.Phil. Sociology, Delhi School of Economics, University of Delhi, India;
Areas of Interest/Research:
Health (global and International); Urban Education and School Choice; Democracy and Development; Social Inequality; Gender; Race and Caste, Ethnography and Qualitative Methods.
Dissertation:
Health, Culture & Democracy: The Case of Decentralization of Healthcare in India
---
Vani S. Kulkarni is a lecturer on sociology at the University of Pennsylvania and Senior Fellow in Urban Ethnography Project in sociology at department Yale University. She holds a PhD with distinction from the University of Pennsylvania. She has received prestigious awards and has held research fellowships at Penn, Harvard, and Yale. She has also been a consultant for the Asian Development Bank and International Fund for Agricultural Development at the United Nations. Her research lies at the intersection of Global Health; Race and Caste; Gender; Identity and Inequality; Development and Democracy; and Education She has published in the ANNALS of the American Academy of Political and Social Science, and in several peer-reviewed journals, has coauthored two books, and her writings have appeared as encyclopedia entries, policy reports for the United Nations, and as op-eds. Her current research constitutes of two distinct research streams, in two diverse cultural contexts: health insurance scheme in India and urban education system in the US. Both projects ethnographically examine the implications of formal, top-down policies in the everyday lives of people who are embedded in it. For instance, the health insurance policy project in India sheds light on the puzzle of why, despite the potential for health insurance to engender better health outcomes of individuals and groups, the uptake remains low. The second ongoing project is an ethnographic study of school choices in inner city Philadelphia. This study seeks to understand the lived reality of school choice policy by exploring its implications for parents, teachers, students, and school administrators, in order to arrive at a critical, nuanced understanding of what it means to be part of an urban school environment in a constrained educational system.
Teaching:
Introduction to Sociology; Qualitative Inquiry into Health Research; Global Public Health; Social Capital & Democracy and Gender & Health in South Asia
Publications: 
Journal Articles & Book Chapters:
ANNALS of the American Academy of Political and Social Science
Journal of International Affairs
Journal of Asian and African Studies
Contemporary South Asia
Brown Journal of World Affairs
Oxford Companion to Medical & Health Geography
Handbook on Food: Demand, Supply, Sustainability and Security
Handbook on Food: Economics, Society and Politics
Books:
Diets, Malnutrition and Disease in India, Oxford University Press
Bringing Fieldwork Back In: Contemporary Urban Ethnography, ANNALS of the American Academy of Political and Social Science.
Encyclopedia Entries: 
Cultural Sociology of the Middle East, Asia, and Africa.
The Blackwell Encyclopedia of Race, Ethnicity and Nationalism
Policy Reports for United Nations and Opinion Pieces
American Sociological Association Global Review Newsletter and leading Indian newspapers, including The Hindu, The Indian Express and the Economic Times.